---
Open procurement innovations




with E-Matreshka
---
What's New

to reed more news >>>
---
CATALOG
---

Customers of Е-Matreshka

Suppliers of Е-Matreshka

Agents of Е-Matreshka

Alexey, Purchasing Department of Marxovsky Brewery LLC, Saratov Region

---

E-Matrеshka is good here because you can find almost everything for your plant, from small things to equipment, and what I can't find, I can always request by e-mail and get an offer. Delivery is prompt. This is not the first time we have been ordering, we are satisfied working with this company.

---




Dmitry, Technical Director of Kalinov Most LLC, Dzerzhinsk

---

As for me, this marketplace became a real discovery, now it's very easy to find and order spare parts and equipment!

---




Vyacheslav, Head of the Metrology, Instrumentation and Analytical Department of Izvarino Pharma LLC, Moscow

---

Fast, reliable, convenient.

We constantly order the necessary goods at this site. E-Matrеshka has become a reliable and high quality supplier for our company. Great choice for legal entities


---




Veronika, Assistant Manager, Technopark Project LLC, Moscow

---

Convenient and intuitive site, it saves order history. The variety of goods is also very pleasing, there is almost everything. The manager is always in touch with you and always ready to help with any question of interest to a product or order. The overall impression is very positive!

---




Dmitry, Leading Procurement Specialist, ProdMit LLC, Ivanovo

---

I noted for myself the following advantages of E-Matrеshka company:

- you can place an order via Internet

- there is a delivery to address of your factory

- a huge variety of goods for production

- the resource provides a detailed technical information if required

- I'm glad that they can meet my requirements about the minimum order or additional discount


1111111111111111111111111111111111111111111

Radmir, Head of Key Account Sales Department, Atomelectrokomplekt LLC, Samara

---

Our products have been presented on the E-Matrеshka platform for several months. We like how we can profitably present our products to the market in relation to competitors on the site, how professionally this company processes orders from our customers. Additionally, this modern sales channel opens up opportunities for us throughout Russia and the CIS countries, and not only in our region.

---

Semion, Director of Technoholod GLEN LLC, Nizhny Novgorod

---

As for us, this platform is primarily an additional marketing tool to promote our brand. Exhibitions now require enormous costs, thematic publications and resources are becoming less popular among our customers, but such platforms, on the contrary, are only gaining popularity. We hope to continue to work together with the company E-Matreshka, increasing our mutual sales turnover

---

Roman, Regional representative of E-Matrеshka LLC, Nizhny Novgorod +7 930 665 43 44

---

I am a regional representative of the E-Matrеshka company. I like to be a part of this system, a fast-growing and perspective. I like to grow, develop and earn with Matreshka and its team! My customers are also satisfied - search convenient, quality and service are at their best.

---






Anbarr028,

Nizhny Novgorod




---

I earned - they paid! I will run orders with E-Matrеshka as a partner. So I can determine my margin for the final customer and the prices for partners are much lower:

To read the full review: https://otzovik.com/review_8904777.html

---




Mikhail, E-Matrеshka Agent, Rostov-on-Don

---

I have been working as a sales agent for E-Matrеshka since August 2019. This profession isn't new for me, the representative's work at the plants is close to me + the customer base has already been accumulated.

Maybe that's why working through Matrеshka is so easy and pleasant for me)

Free schedule, earnings from sales for the region is very significant! Free time you can devote to finding new customers to earn even more, or something else you likes)

---




Evgenij, E-Matrеshka Agent, Yekaterinburg

---

The work is not for those who are used to a stable monthly salary, and to instructions on what and how to do. Here you are your own boss and employee, you determine your own earnings, but for this you have to work hard, look for the customers yourself, meet and negotiate with them, sort out what they need and what our resource can offer to them. But at the same time you receive your honestly earned money immediately after each sale !!! This is great motivating! Well, the team, of course, thanks too! Always in touch with you, always on the hedge!







To Read more reviews about us>>>
How to search a product among 34 356 390 SKU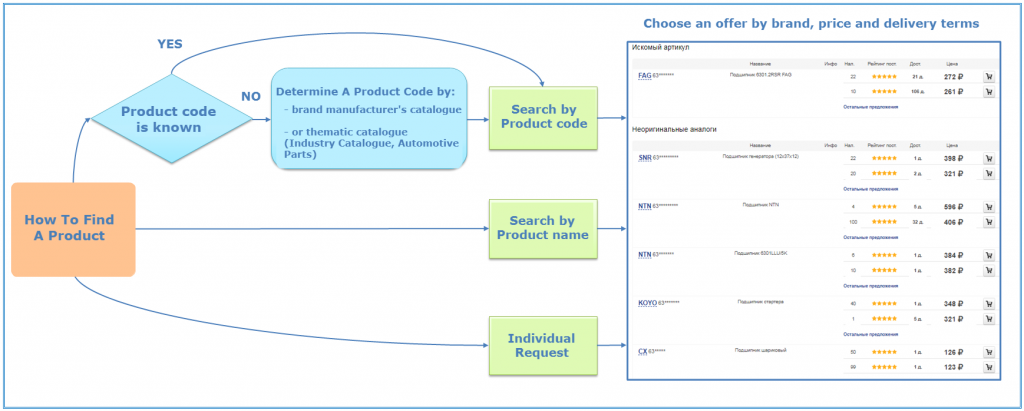 Key product groups of our offer