About BBR GmbH
About BBR GmbH, Germany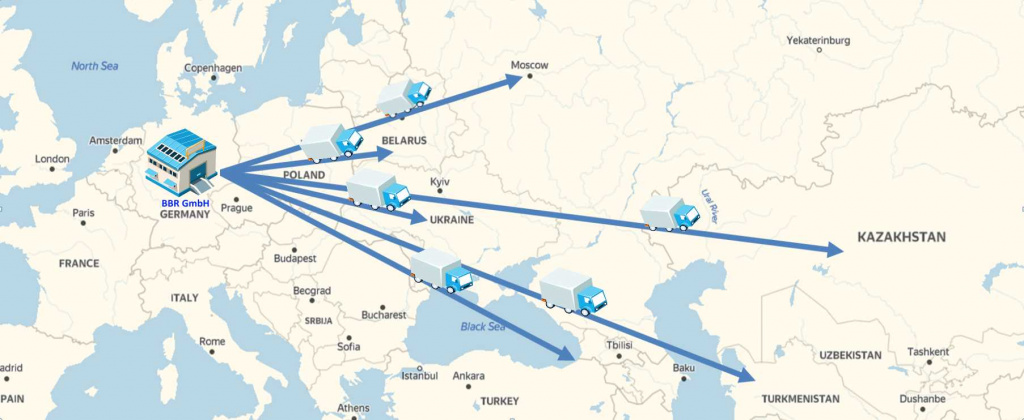 Over than 15 years BBR GmbH has been providing the following services for you:

- consolidation of all your orders in the Munich hub
- control of the quality and conformity of all the accepted goods
- photos of all the cargoes
- preparation of all the export documents
- organization of the transport and customs logistics to Russia and the CIS countries

BBR GmbH offers you the following delivery terms:

EXW Munich

Our resource makes a tender among suppliers from all over the world according to your task,

You receive the offer with the best terms of delivery and price in Invoice.

We select the HS codes for your customs and

make a full technical description of the cargoes for the customs authority in your country.


---

CPT

Delivery to the customs terminal

You can order delivery to your customs terminal,

as well as making an export declaration.

For your convenience and economy

we will collect small orders in a consolidation warehouse and ship them in a modular cargo,

and we'll deliver bulky ones to the customs directly from the manufacturer




---

DDP Delivery at point

Our local partner

will offer you the purchase of the necessary goods on the

terms of shipment to your Company or from your local Transport Company terminal

.

During customs clearance they get all the necessary

permissions, certificates, they work with copyright of the imported goods.

At your request they can provide a copy of the customs declaration.


---
Our partner in Russia:
E-Matrеshka Company
20 Kulakova str., bld 1, Moscow, 123592
+7 495 108 75 37
info@ematreshka.ru
We invite partners in the CIS countries, Eastern Europe and Turkey
.
Mit freundlichen Grüßen / Best regards
Dennis Wir
info@bbr-gmbh-de.com
+49 891 490 26 17
BBR GmbH